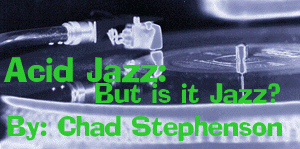 ---
Article taken from Buzznet; http://www.buzznet.com/. Reprinted with permission.
© Article: Chad Stephenson. Photography: Peter Ellenby. Markup/design: ISS & Marc Brown. (http://www.buzznet.com/)
Editors note: music samples removed, background color changed.
---
Acid Jazz is going through growing pains. The pains that come with any burgeoning genre, the time where it leaves the underground to aspire for air time among the public, the record buyers who grace the halls of Tower Records, Wherehouse, and Virgin Megastores. These days are defining moments for the fresh, young genre. But just how it will be defined and by who and whether or not it should be categorized at all is what makes acid jazz different from past developing scenes.

Just as hip hop was drawn into marketability by Melle Mel on Sugarhill Records back in '79 with "The Message," by laying down the lyrical beat "hip, hop, a hip to the hippity hip hip hop, you don't stop," consequently one night in the late '80s in an English club following the acid-house deejay, DJ Giles Peterson began playing rare seventies grooves and reciting poetry over it. He coined the term "acid jazz" as a tongue-in-cheek, but it stuck. The style of music was varied, soul and funk interspersed with jazz cuts was the form.

Now, as advertising purports, "acid jazz" has a niche in the buying public. Instinct records advertises itself as "America's leading acid jazz label," the Charlie Hunter Trio is a current big seller for the newer, hipper, and younger sounding giant jazz label, Blue Note. And, of course, the original Acid Jazz recording label which was founded in 1988 by Peterson (who has since left and moved on to create a new label, Talkin' Loud) and his partner, Eddie Pillar, who runs the British label today, estimates their annual sales in the millions thanks to such acts as the Brand New Heavies, Jamiroquai, Mother Earth and the James Taylor Quartet.

Who would have guessed at the international success of the Brand New Heavies, US3 or even the budding public potential for Incognito, UFO, or DeeeLite's former DJ Towa Tei outside their respective club scene? MC Solaar, of France, made his mark in the States on Guru's Jazzmatazz Vol. 1 followed by his own album, and club deejay, Tricky, worked with Bj&oumlrk on Post. But what is acid jazz? And, as acid jazz is beginning to course through the veins of pop culture, will it become a trend which fades away or will it remain as a unique form unto itself?
Roots Music
Acid jazz has its base in tried and proven musics--soul, funk, and R&B. At its inception during the mid-eighties in England, "rare grooves" were the club DJ's delight. Uncovering tracks from obscure recordings (often from the late sixties or early seventies), Peterson would spin Boogaloo Joe Jones' "What It Is" back to back with Charles Kynard's "Reelin' With the Feelin'" to get the crowd dancing--making them alight to the grooves set by wah-wah guitar, congas, a Fender Rhodes or Hammond B-3 organ, funk bass, and slapshot drum fills. It was a deejay artform, similar to old school hiphop--a capability to spin records and get to the soul of the crowd, the groove. It was also a departure from traditional "purist" jazz, that was making a comeback in America lead by the heady, technical virtuosity of Wynton Marsalis. Instead, acid jazz appealled to the heart and soul of the listener as a music to make you shake your bones.
As deejays realized the power their grooves held, some moved on to build compilation albums of old tunes they spun in clubs, rereleasing the songs from the vaults of the recording houses, such as Fantasy Studios in Berkeley. Michael and Jodi McFadin, now owners of underground popular acid jazz re-release label Luv 'n Haight, as well as the parent company Ubiquity Recordings, began their move beyond the club scene this way.


As an American deejay touring Europe with his wife, Mike saw the scene growing each year. "Every year since '89 [when] we were going over to Europe and deejaying, meeting these guys in Holland--a deejay from England, a deejay from Amsterdam, a deejay from Germany--every year we'd say, 'Next year it's going to be big.' And the following year when we'd meet it was two or three times bigger than we thought."
They released Luv 'n Haight's Bag of Goodies in the late eighties to much acclaim. The liner notes by Bill Shannon reveal the newfound potential of compiling rare grooves; noting its power as the "first essential collection of retrospective independent funk rekindled by Luv 'n Haight hit the streets," he writes "those of us who had spent many hours and pennies seeking out the original copies of those tracks thought it was a great release of appeal to a dedicated but limited bunch of vinyl junkies."
'Limited' became the operative word as the acid jazz began taking off as a genre in the late eighties and early nineties. Mike McFadin says the label has changed to meet new needs, but "trend" is a word he doesn't agree with. He feels acid jazz is similar to hip-hop in that acid jazz has roots in true musical forms and those proven styles it relies on are what will keep it alive and growing.
McFadin's company & Ubiquity have been built on the homegrown philosophy of word-of-mouth being the best promoter. "Through notoriety, we're going through a change," he says proudly. "We're just now going from a small company to a mid-size independent label. We're cutting loose with most of the compilations and we're recording full length albums with groups." He sees the move toward live music as a natural progression.
Live Evil
Group development around acid jazz as a style has come from the musician in the listening public, many who grew up on acid jazz rare grooves now want to create their own path into the new genre. Such is San Diego's Greyboy Allstars, who count older jazz musicians in their influences as much as current rap artists.
"It started with A Tribe Called Quest," says Zack Najor, drummer for the Allstars, "when they kept saying 'jazz' over and over [on Low End Theory]" He goes on to make references to Public Enemy ("Terminator X has the baddest drum samples") to session drummer Steve Gadd, all in the same conversation. Bassist Chris Stillwell cites Herbie Hancock as his main influence while saxophonist Carl Danson mentions Grant Green as one of his. Stillwell says the group is constantly introduced to music by DJ Greyboy, a veteran vinyl collector.
Stranger still, the group mentions nuances to the crowd who likes acid jazz. In San Francisco, it's the hipsters. In San Diego, the local bars host the college crowd. And lately they've been playing snowboarding festivals.
"They're really into our stuff," says saxophonist Karl Densen. "We've even had our stuff played in videos," referring to both professional promotions videos and amateur ones boarders, both of snow and skate, make to show their skills.
Previous late eighties' and nineties' commercial releases affected the general public, though to a limited extent. On the smooth side was A Tribe Called Quest who featured deep groove bassist, Ron Carter, on the track "Jazz." Carter's career moved on to help him become a producer for funk induced pop-movie soundtracks. Miles Davis recorded his last album, Doo Bop in 1991 with rapper/hip hop producer Easy-Moe-Bee; Guru's Jazzmatazz Vol. 1 featured more than ten veteran jazz artists such as Branford Marsalis, Donald Byrd, and Courtney Pine and even began N'Dea Davenport's association with Brand New Heavies; and, of course, Digable Planets who have captured the fire of drummer Art Blakey's fills and Sonny Rollins' sax while verbally connecting the dots to the past masters saying, "wondrin' what would 'trane say? wondrin' what would my pop say? Buggin' off the calmness in the Apple."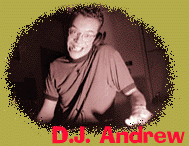 DJ Andrew, AKA Andrew Jervis, is the editor of On The One, a magazine devoted to the development of jazz in its new multifaceted aspects. He notes that, at its roots, DJs are an integral part of the acid jazz music and that his new project, Better Daze, which will have a four track EP out on Ubiquity in the fall, is a collaboration with musician Paul Scriver of Neomythic.
"The DJ is always going to be important," he says. "There's always going to be dance clubs...where people want to hear continuous music all night. It's them who can push a scene, play independent label music that you're not going to hear on the radio or on TV. But the DJs have to take risks, it's all a bit safe. Being a DJ isn't just about matching the BPMs."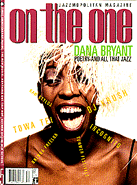 Acid jazz and rocksteady deejay, DJ Cool Chris, agrees, and cites the influence of playlists, lists of top records deejays favor, which can be found in scene magazines like On the One, Straight No Chaser, StepJazz , and Soul Power. "DJ playlists tell you what's happening, where the hot sounds are," he says. They keep the scene fresh, show the readers where the underground is and project where it may be going.

Up from the Underground
For those not in an urban environment, the likelihood of hearing acid jazz in a club is, for lack of a better word, a "remote" chance. Radio and television are the main sources for the majority of record-buying America, and the recording business knows this better than anyone else. John White, product manager of Instinct Records, says that putting bands on the road has made a difference in sales of an album. Touring for a live acid jazz band is essential to their recording success, at least until commercial radio stations pick up on the scene. He explains that "the scene is going to have to change. People are going to have to know what they are going to buy" if acid jazz is to make a commercial impact on the buying public.
White believes the acid jazz scene will move toward radio to grow, and he plans on that market of twenty- to thirty-year olds who listen to adult contemporary to buy into the acid jazz record market.
"[The group] Count Basic [had] a number one adult contemporary hit," he says. "The reason our New Voices record is selling is because it had radio-play. Radio-play is very important. Moonshine [an acid jazz/dance label] has a full time radio person to promote it [for them]."

It's duely noted, however, that America's radio music of choice is mainly based on guitar. Guitar rock that has stemmed from Zeppelin and Hendrix back through the British invasion to Elvis and Bill Haley and is rooted to the bluesmen of Mississippi is deeply rooted in the heart of the buying public. It's what sells today--from Neil Young and Pearl Jam to Hole. It's what acid jazz fights against. It's also what jazz, itself, in all forms is fighting against. But as White sees it, "It's sad but true. There's far too many people out there that if there's not a guitar in music they just couldn't fathom listening to it, despite the fact that it could be interesting. I think sales are going to grow as the music becomes [more and more] live."

One Nation Under a Groove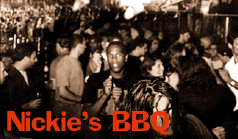 "It can even be a track off a Liza Minelli album," says Mike McFadin, "if it has the groove."

But what exactlyis it? As it exists now, acid jazz falls under nearly every category. As one writer put it, "it mixes samba, bossa nova, even calypso and rumba into jazz. In a way, Tito Puente might even be considered acid jazz." It crosses genres, perhaps several times in one song. But the one thing--it seems--that holds it together, that must be evoked to separate it as a tried-and-true genre is "groove." It must make you want to get up a groove. Can you explain that with a category?
What it offers it offers for musicians is the ability to bridge the gap between themselves and the audience, perhaps what Miles Davis was trying to do when Bitches' Brew redefined jazz by saying that jazz musicians can play to an audience for appeal, to welcome them into jazz by way of rock music. Acid jazz, in nineties style, also offers the chance for musicians to meld with DJ's, to form a coalition between live and recorded music the way hip hop has attempted, though unsucessfully, in its past.
Where the boundaries lie is still open and is exactly what makes the scene so appealing. McFadin will introduce a new label, CuBop, in the fall featuring latin-jazz ensembles; Andrew Jervis cites jungle (bass and rhythm influenced music) and so-called "trip hop" (deep space grooves) as branches from the acid jazz tree that have just sprouted and continue developing; not to mention deejays who continue to weave a more complex tapestry with effects like multi-layering records on turntables to create an alloy of beats and rhythms, a virtual "groove synthesis."
The question still arises, as Adam Sutherland writes on the liner notes for Sol--The Essential Music, a Luv 'n Haight record: "What is jazz in the 90's?" Fortunately, he provides an answer which encapsulates the enigma that is acid jazz.
"Today's jazz musicians are still open to the past, but now they're just as likely to check Chaka Khan as John Coltrane. Nineties jazz isn't post straight-ahead or retro bop," he notes, "it mixes eras, ideas, feelings..."
what else?
"...and grooves."

---
article: Chad Stephenson
photography: Peter Ellenby

markup/design: ISS & Marc Brown.

all album art and music samples courtesy of the fine record labels mentioned in this story

---