From: J-Justice <jason_at_suntzusound.com>
Date: Thu, 30 Mar 2006 11:47:56 -0800
SunTzu Sound and FOB present

JAZZANOVA (DJ Set)
with SunTzu Sound
THURSDAY APRIL 27th
The Baltic Room 1207 Pine St. 206.625.4444
21+ / 9p-2a / $10 advance tickets available April 1st at
http://www.thebalticroom.com

||| JAZZANOVA Returns to The Baltic Room After Their Sell-Out
Appearance in January |||

On Jazzanova's new album 'The Remixes 2002 - 2005,' the appropriate
sequel to the nu-jazz / future soul masterpiece 'The Remixes 1997 -
2000,' the Berlin-based six-piece collective add their impeccable
production skills to tracks by Heavy, Masters At Work & Roy Ayers,
Marcos Valle, Shaun Escoffery and Nuspirit Helsinki. On this exclusive
Seattle appearance, expect a stunning amalgamation of retro and new
sounds that echo musical styles as varied as hip-hop, afro funk, drum &
bass, boogie, brazil, latin, and soul. For this appearance, Jazzanova
returns with DJ Jürgen von Knoblauch on the controls for his first
Seattle appearance in over 3 years.

$10 advance Tickets available April 1 at http://www.thebalticroom.com

SunTzu Sound and FOB present
JAZZANOVA (DJ Set)
Opening set by SunTzu Sound
Thursday April 27th
The Baltic Room 1207 Pine St. 206.625.4444
21+ / 9p-2a / $10 adv tickets at http://www.thebalticroom.com

http://www.jazzanova.net
http://www.sonarkollektiv.com
http://www.suntzusound.com
http://www.thebalticroom.com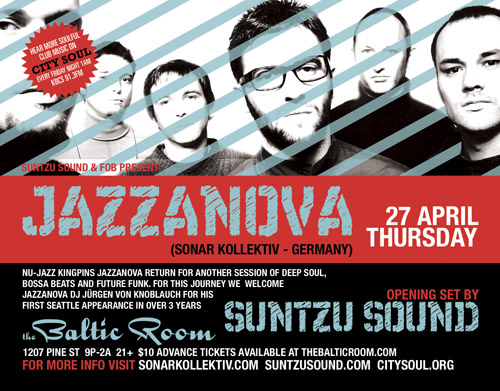 Received on 2006-03-30 21:59:07