Warning! There's no acidjazz to be found here. Not a bit.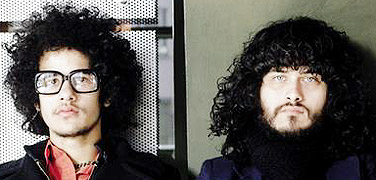 Our next album? It going to be about two guys that experience an exceptionally bad hair-day.
I think the previous album Deloused in the comatorium was absolutely brilliant. This is almost just as good. Deloused was more immediate, slightly more melodic.
I don't fully understand the music or whatever the album is about, but there is undeniable quality hiding in this display of "dinosaur prog". This is music that grows on you when you know more about the story behind the album. There's some information on that at the band homepage. The band doesn't like the idea of being a concept album band, but at the same time they say it is impossible not to be one.
There are many things to like here. I like the melody-driven sound, the high-pitched voices, the complex mix of genres and the technical proficiency. This in combination with a large pompous sound and the energy of punk results in a fantastic overstuffed album.
Very short sound bite: Multiple spouse wounds. [13 sec, 160 kB]
There's a long review of the album at Pitchfork. Their comment on the 30-minute track "Cassandra Gemini":
"Smoke a bowl first if you need to, but nothing short of opium will convince me that there aren't more productive ways to spend 30 minutes trying to fell a redwood with a plastic spoon than listening to this beast."