It's been a while since I regularly bought music from the Compost label. Maybe it's because it's hard to find their albums - at least I don't run into them that often. They are not exactly on display at your average record store.
Compost used to have some pretty amazing compilation series, like "Future Sounds Of Jazz" and "Glücklich". The Future series started in 1994 and was a nice intro this new kind of jazz for many people.
This compilation of black label 12" is a different story. I wonder if the jazz days at Compost are over? I say this because the black label series is very electronic. It's dark music, and quite inaccessible I think. A sign of a big change at the headquarters in München?
There are some things on the album that I like, like Tricksky, and especially the robot-like sound on the Zwicker track.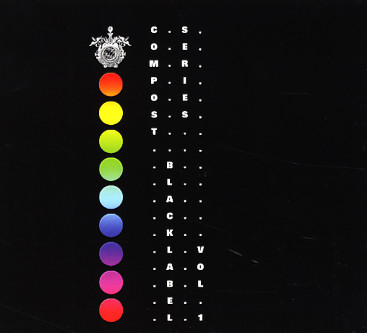 1. Made Up - Zwicker 2. 51 Cents - Syrup 3. All Night - Flowerz 4. Hormony - Trickski 5. Child Of Dancer - Lopazz 6. Close Life Off - Goosebumpz 7. Solaris - Minus8 8. Water Samba - Suzuki, Keisuke 9. Erlangen Sud - Kammerl, Julius 10. Crisp Court - Peter, Martin 11. Boogie Beat - Phreek Plus One 12. Kholi Number - Brahmasonic 13. Estrella - Lopazz