The long-awaited album from the Bugz is out. With band members like Orin "Afronaught" Walters, Paul "Seiji" Dolby, Kaidi Tatham, Daz-I-Kue, Alex Phountzi, Cliff Scott, Mark Force and Matt Lord, the expectations are high. If it would contain another track like "Booty la la" then success would be guaranteed. It was the track of the year according to Gilles, in 2004 right? No such track to be found, but many other nice bits and pieces.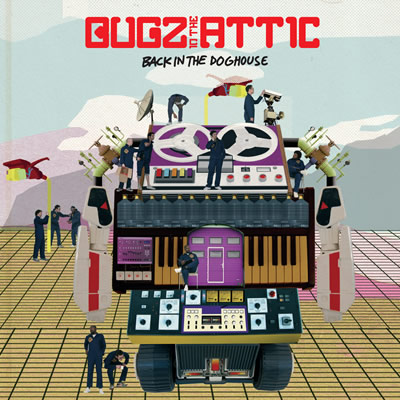 The lack of another monster hit will make this an album for the broken beat fans only. As an album, it is not at all immediate (as Booty...) and will require a number of spins. Most tracks are jerky, syncopated and with heavy b-lines. Broken beat does not get much better than this. It's not exactly made worse by having a vocalist like Bembé Segué.
The slightly unpredictable style reminds me of some of Missy's experiments. After a while, the mix of jazzy sounds, house and 80s funk is catchy, uplifted by the complex vocals. When there's so little going on in the funk domain IMO, this album should be able to find a new home next to some old Prince and P-funk albums.
1. Intro 2. Move Aside 3. I'm Gonna Letcha 4. No More 5. Once Twice 6. Redhanded 7. Doghouse (Interlude) 8. Knocks Me Off My Feet 9. Consequences 10. It Don't Work Like That 11. Sounds Like 12. Happy Days 13. Don't Stop The Music 14. Inna Row 15. Worla Hurt 16. Booty La La