Swedish soul, from Nils "Melo" Tull. This is the kind of soul that almost never gets played on radio. The album is (imo) very good but lacks a hit. It would be nice if more people would hear this.
The style is like those slow ballads that Janet sometimes does - sound of light rain in the background, someone leaving, downtempo chorus, no more love, a piano playing, bitter taste, a slow dance alone, more piano and no funk whatsoever, heavy rain, the end.
For me, this is the strength of the album. There are almost no weak songs (well, the lyrics at times) and you can easily play this over and over. It sounds the same, all the time. There's no funky tunes, no uptempo hits, no Timbaland. It is dark and sad all the way. In that sense it reminds me of Lewis Taylor or D'Angelo.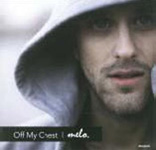 At the moment I cannot think of a better Swedish soul album.
Melo will play at Berns, 3rd of August 2008. I'll try to be there.