CD1 was mostly collected in April but was left half-finished until now. It's lacks a common thread I guess. Some new, some old tracks, some remixes - basically just some tracks I found interesting back then. I'm not sure they are so interesting now. But, the whole remix album by Trentemøller is highy recommended! Bartmes' album Modular soul too. I would like to see Bonobo live - the Black Sands album has a number of really solid tracks and is just good music.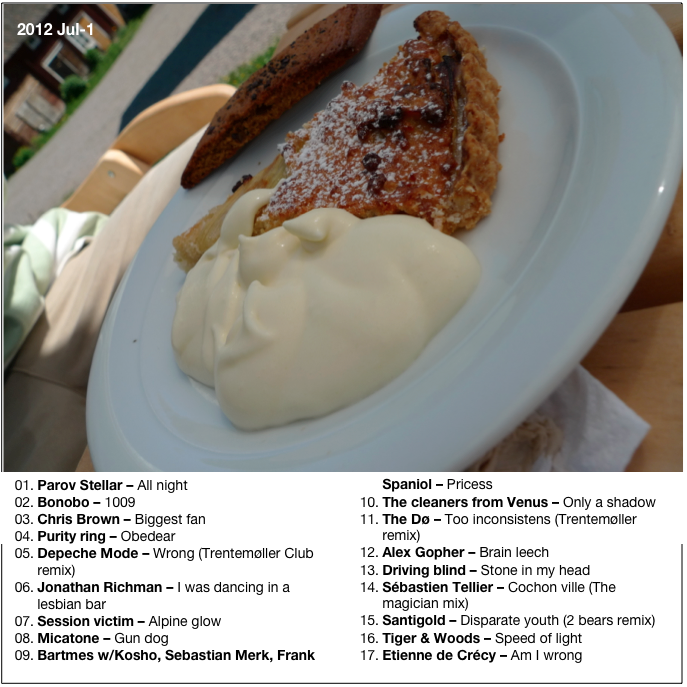 Cover shot: Almond pie at Linnés Hammarby. 7/10 points.
CD2 is meant to be in a nujazz style, and I think a number of tunes here are worth checking out. Most of it is pretty understated. Not catchy but the groove is there. Solid stuff that will grow on you. I had my hopes up on the new albums from both Rumer and R. Kelly but have not (yet) found them interesting. Had I hoped too much? The Frank Ocean album is quite the opposite - fresh and surprising. Will get played a lot this summer. All the hype is well deserved. I don't mind Jazzanova's experiments into the live funk/soul but could we please get the club style back at some time? It's been way too long. Get Alex Barck off the turntables and into the studio, soon. It's been too many years since we got some club sounds from this crew. Naomi is not exactly know for their hard remixes but I liked this one. Public Enemy includes dubstep influences...? Who would have guessed. Chuck D still's got it, imo.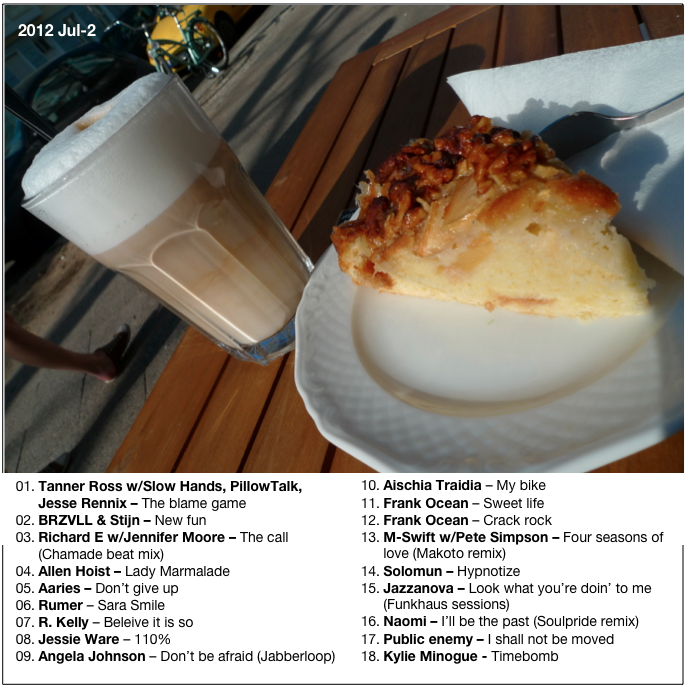 Cover shot: Apple pie at Conny & Conny in Berlin. 8/10 points.
CD3 is intended to be played loud or in headphones. I'm really into this (techno, dubstep) style at the moment - there seems to be more talent here and definitely more things going on. I took a large number of tracks from the latest DJ Kicks compilation by Digitalism. They can do no wrong it seems. I'm going to see them live this summer at the Berlin Festival. Going to be huge I'm sure. Just the right town and crowd for them. That VCMG album is amazingly solid for this kind of music/genre. Normally just a couple of tracks are ok, but here the whole album is on the same level. It does help hearing this played in a real sound system. VCMG is Vince Clarke (Erasure / Yazoo / Depeche Mode) and Martin L. Gore (Depeche Mode)!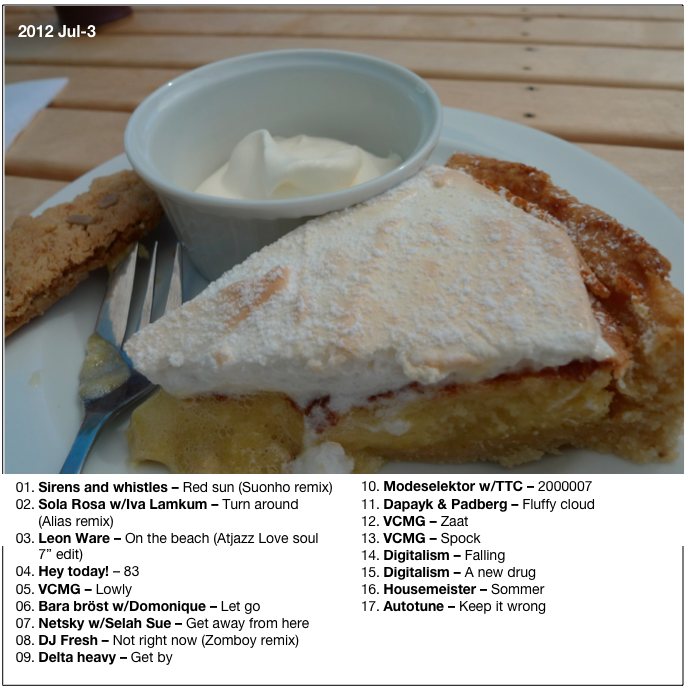 Cover shot: Lemon pie at Linnés Hammarby. 9/10 points.